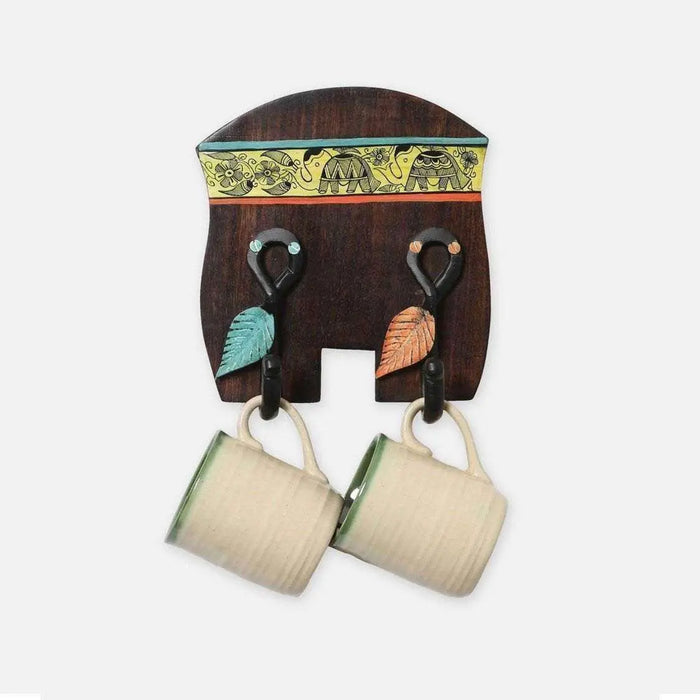 Artysta 'Elephant Clasps' Tea Cups Set of 2 With Wooden Holder
Amp up your kitchen walls with this amazing set of two handcrafted Ceramic cups and a glorious wooden Madhubani hand-painted cup holder. Procure this combination not only to save space by organizing the tea cups but also to glamorize your kitchen. The matte Cream-colored tea cups are perfect for regular usage for drinking tea or coffee &, the wall holder in Mango wood, which comes with two iron hooks for hanging both the cups, is aesthetic with its floral & Elephant decorations.
Hand glazed with matte Off-white tone on the outside & glossy Moss Green inside, it makes for the perfect gift item as it also comes with a beautiful Madhubani hand-painted hanging cup holder in Mango Wood.

The holder can be easily hung on the wall and comes with 2 iron hooks to hang both the cups making it a unique purchase.


Product Dimension: Holder (Length X Width X Height) 6.4 X 2.3 X 7.5 Inch
Disclaimer:- The size/ shape and/or design of the actual product may slight owing to each product being hand made. Its difficult to replicate exact color/shade/art while creating the pieces.