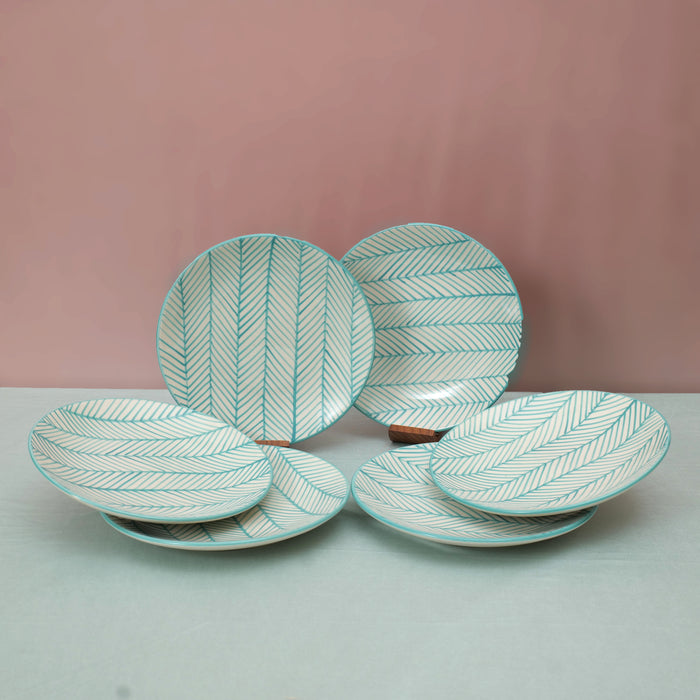 'Green Stripe' Ceramic Studio Pottery Side & Quarter Plates 7 Inch
Crafted from high-quality ceramic, these side plates offer exceptional durability and resilience. The smooth and sturdy surface resists scratches and stains, ensuring long-lasting beauty and functionality that will withstand the test of time.
Whether you're hosting an intimate gathering, enjoying a casual meal with your family, or looking for a thoughtful gift, our ceramic side plates in white with a sea green stripe pattern are the perfect choice. Elevate your dining experience with these handmade treasures that seamlessly blend style, versatility, and practicality. Embrace the charm and sophistication they bring to every meal.
Product Dimension:- (Dia x Height) 7.1 X 0.9 Inch
Care Instruction:-
Wash gently with a mild detergent.

Do not use any abrasive substances while washing.
Disclaimer:-
Please refer to the dimensions in the image.

The plates are Microwave, Oven, Freezer & Dishwasher safe.

There may be a slight variation in the glazing, color or finish of the plates as the glazing is done inside the furnace at a very high temperature to make the product solid and strong.