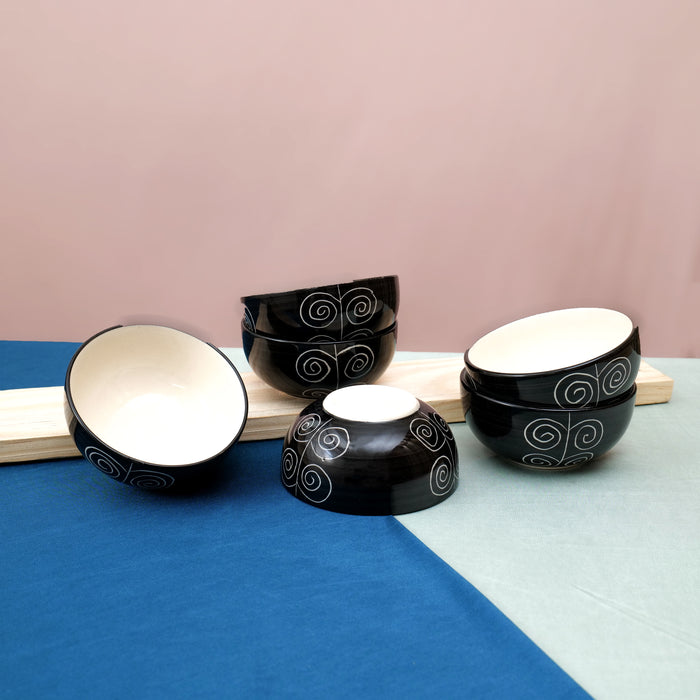 'Creeping Vine' Black Ceramic Veg Serving Bowl 150 ml (Set of 6)
Crafted from high-quality ceramic, this small bowl guarantees exceptional durability and resilience. The smooth surface is resistant to scratches and stains, ensuring that it maintains its pristine beauty even with regular use. Each bowl is meticulously handcrafted by skilled artisans, showcasing exceptional craftsmanship and attention to detail. The deep black hue adds a touch of elegance and versatility, making this small bowl suitable for any occasion, whether it's a formal dinner party or a casual gathering.
Not only is this small bowl visually stunning, but it also offers utmost convenience. It is microwave, dishwasher, and oven safe, allowing you to effortlessly warm up or bake dishes, and easily clean up after use.
Product Dimension:- (Length x Width x Height) 4.1 X 4.1 X 2.1 Inch  
Care Instruction:-
Wash gently with a mild detergent.

Do not use any abrasive substances while washing.
Disclaimer:-
There may be a slight variation in the glazing, color or finish of the bowls as the glazing is done inside the furnace at a very high temperature to make the product solid and strong.